Lady and Gentlemen, it doesn't get much more interesting than this...
I present (part of) my journey to work a.k.a. The Central Line experience.
Most days of the week I do this journey, sometimes twice a day. At the weekend there is the salvation of a car or cab.
This morning I was travelling down the escalator and munching some M&S cashew nuts when the idea dawned on me. I think I was (discreetly) picking my nose at the time.
So this is where the journey towards the office really begins - at Bond Street Tube Station having just been spat out here by the Jubilee Line.
In very simple maths, I change at Bond Street tube station twice a day, around five days a week. I have done this for four years. So please can someone work out how many times I have changed trains at the station. My maths is crap.
Then...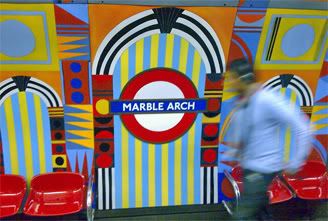 Madonna lives near this Tube station, as does Tony Blair. It's also really close to a sauna which is about the size of a postage stamp.
I remember going when I first got to London, there were about three guys there and their mean age must have been 75. I think it was the first time I've ever been to a gay sauna and asked for my money back - I mean, if you don't get any interactions, surely you deserve your cash returned? The bastards never refunded me.
Then...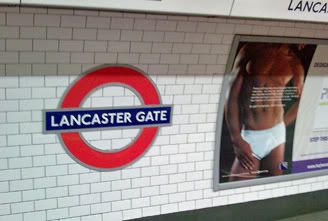 I don't think I've ever actually got off at the Tube station. Is there anything interesting about it?
Yeah, don't think that poster's anything sexy. It's highlighting how gay men are at risk from having cocks that drip green stuff, or something. Sorry if you're eating. It would appear if you have a hot body the risk increases?! Or something.
Then...
For about 18 months, this is all you'd hear when travelling on the Central Line; "Queensway station is closed. This train will not stop at the next station."
This station has a lift and at the top of the lift there are a lot of Lebanese people who drive cars with shiny wheels. There are also two great restaurants at the top, one and Indian and the other Greek.
In the Indian restaurant my sister once said to my parents; "you do know Bobby's gay..."
My parents, "um... if Bobby's got something to say let him say it." I just said, "well I take it you lot aren't idiots..."
Then...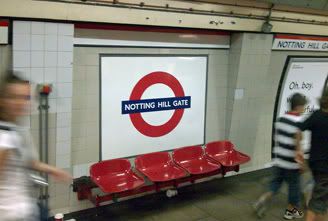 Notting Hill Gate. I don't like Notting Hill. It's all boho and intellekshil-type people. There's nothing more to say about this station. The people who get off here are generally women with red hair and rings through their noses.
Then...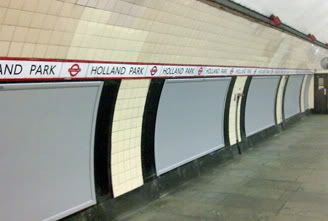 "So where is this, Shepherd's Bush?"
"No, Holland Park! Holland Park!"
I'll give a massage to anyone who can guess where those lines come from? Poor Holland Park tube station seems like it's suffering a sense of humour failure. Elton John lives in Holland Park and some other famous and rich people, funnily enough.
Then...
Shepherd's Bush station is shut so this is what it looks like as you whizz through. Shepherd's Bush is a bit grotty so you have to spruce it up by calling it Chez Beaux (Shay Bo). Loads of South Africans live in Chez Beaux. On the green outside there's a bar that used to be a public toilet, I once grabbed a girl's tits in there. I've also vomited outside the Walkabout nearby. When in Chez Beaux I don't know why it's customary to be drunk but it is.
Then...
The final stop; White City. Or Quite Shitty. Or Big Titties.
I don't know what comes after White City. Ealing Broadway's along there somewhere.
This is where I get off every day, my iPod blasting. I traipse up the stairs, through the various building sites and find myself at work. From my desk you can see the trains coming into and leaving, so the next time you visit the station, wave and I'll wave back.
And that's how Bobby makes his way to and from the office. Go and look it up on a map, I think I've got all the stations in the right order.
So how exciting was all of that?! Tomorrow let's do something very boring. Maybe I'll get my knob out or something.